The Resurrection of the Soldiers, 1929, Sir Stanley Spencer (Sandham Memorial Chapel)
How Sir Stanley Spencer's gentle, ascetic, visionary soul endured the infantry experience beggars one's imagination. "When I left the Slade and went back to Cookham, I entered a kind of earthly paradise. Everything seemed fresh and to belong to the morning. My ideas were beginning to unfold in fine order when along comes the war and smashes everything," he wrote. "The war changed me. I no longer have that assurance and feeling of security I had before."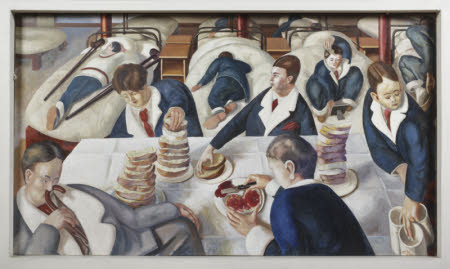 Tea at the Hospital Ward, 1932, Sir Stanley Spencer (Sandham Memorial Chapel)
Sandham Memorial Chapel
was designed by Lionel Pearson and painted by Spencer as a memorial to Lieutenant Henry Willoughby Sandham and the "forgotten dead" of the First World War. (It is now run by the National Trust.)
Spencer's paintings were inspired by his own wartime experiences. He served as an orderly with the Royal Army Medical Corps in Bristol and then in Macedonia, where he was subsequently transferred to the infantry.
Dug-Out (Stand To), 1929, Sir Stanley Spencer (Sandham Memorial Chapel)
The Sandham paintings were commissioned in 1923 and completed in 1932. They are dominated by a Resurrection in which there is no Last Judgment. In it, ordinary foot soldiers and horses return cautiously, confusedly to life, as if the horror of battle were merely a play or a bad dream—rather as the veterans of the Great War returned to their everyday lives. The details of Spencer's imagined eternity are as homely and real as those painted by Pieter Bruegel the Elder 400 years earlier. The divine is in the ordinary, as it is in Spencer's great masterwork,
The Resurrection, Cookham
, which he painted concurrently with the Sandham paintings.
Travoys Arriving with Wounded at a Dressing-Station at Smol, Macedonia, September 1916, Sir Stanley Spencer (Imperial War Museum)
In both the Sandham works and his other war art, Spencer concentrated on the soldier's everyday experiences, pointedly eschewing any sense of grandeur. R. H. Wilenski is widely quoted as saying that "every one of the thousand memories recorded had been driven into the artist's consciousness like a sharp-pointed nail." But these are the nails of the Cross, the nails of a transformative suffering, not the nails of mere human experience.
The chapel is closed right now for renovation, so it will not be holding its annual Remembrance Day service this year.
Let me know if you're interested in painting with me in Maine in 2014 or Rochester at any time. Click here for more information on my Maine workshops!